47 Neck swelling: Cervical lymphadenopathy in generalized lymphadenopathy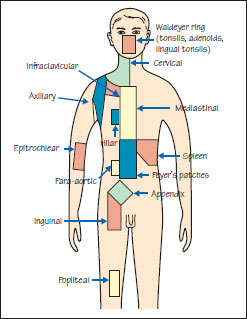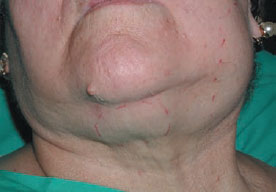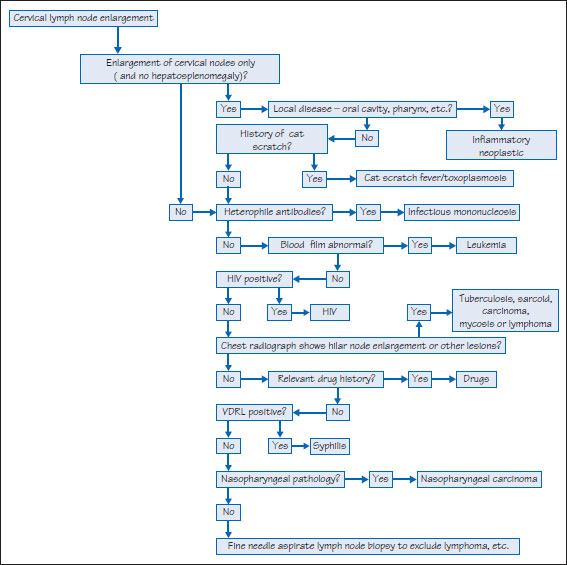 When two or more lymph node groups are enlarged, the term "generalized lymphadenopathy" is used. This often results from conditions affecting the wider lymphoreticular system (e.g. liver, spleen and lymph nodes in axillary, inguinal, lung hilar area, abdominal wall) (Figure 47.1), especially systemic infections or malignant disease. Causes are decribed below.
Viral exanthemata (infections mainly in children that produce rashes, e.g. chickenpox, measles, rubella); systemic viral infections, such as glandular fever syndromes (caused by Epstein–Barr virus (EBV), cytomegalovirus (CMV), human herpesvirus 6, and HIV/AIDS), and virus-associated hemophagocytic syndrome (VAHS: a rare consequence of infection with some herpesviruses that damage blood cells).
Bacterial infections, such as tuberculosis, brucellosis and syphilis.
Deep mycoses: paracoccidioidomycosis.
Parasitic infections: Leishmaniasis (Leishmania infantum/chagasi, L. braziliensis or L. tropica contracted from sand flies); toxoplasmosis (Toxoplasma gondii, contracted from cats or their feces – often causing posterior cervical lymphadenopathy); and trypanosomiasis (Trypanosoma brucei; transmitted by tsetse flies).
Connective tissue diseases (e.g. rheumatoid arthritis, systemic lupus erythematosus).
Granulomatous diseases (e.g. Crohn disease, orofacial granulomatosis, sarcoidosis). Sarcoidosis is a multi-system granulomatous/>