46
Postoperative management
Patients are instructed to contact the doctor's office immediately if they are concerned about any abnormalities. If a postoperative complication occurs, it must be managed as soon as possible (see Chapter 47). Postoperative instructions must be provided to the patient before the surgical procedure, with the informed consent form. A written form is convenient and can be customized by the surgeon (see Appendix E).
Whatever the procedure, patients are asked not to wear a removable denture for 10 days postoperatively if there is a risk of hard pressure on the wound (Fig. 46.1). Provisional FPDs can be inserted immediately. Care is taken to avoid pressure from the provisional restoration on the wound.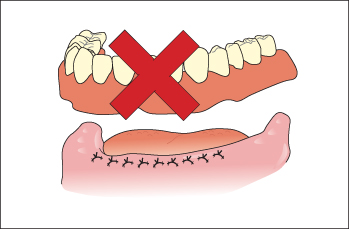 Standard Procedure
The postoperative considerations are similar to those applied for most oral surgeries, i.e. the postoperative course is often minimal. Recuperation normally takes 1–5 days after implant placement, depending on patient condition and patient compliance with prescription. Sutures are optimally removed 10 days after the surgical procedure. Standard hygiene procedures can be reintroduced. The denture is carefully relined with a soft material after primary healing of the wound (at least 10 days).
Cold therapy is beneficial to reduce bleeding, swelling, and muscle spasm, and to decrease metabolic rate (F/>