24 Red and purple lesions: Erythema migrans (lingual erythema migrans; benign migratory glossitis; geographical tongue; continental tongue)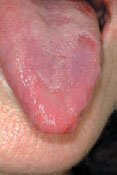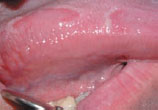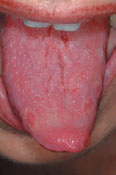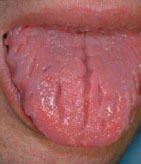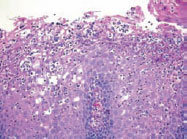 Oral erythema migrans is a condition absolutely distinct from cutaneous erythema chronicum migrans, which refers to the rash often seen in the early stage of Lyme disease.
Definition: A benign inflammatory condition of the tongue with maplike areas of erythema which are not constant in size, shape or location.
Prevalence (approximate): 1–3% of the population.
Age mainly affected: More prominent in adults than in children.
Gender mainly affected: F > M.
Etiopathogenesis: It appears to be a genetic condition. A positive family history may be obtainable but HLA findings have been equivocal, with reported associations with B15, DR/>