23
Treatment planning: implant selection
Implant selection is performed after prosthetic planning, in order to match implant characteristics with the prosthesis requirements: this is the concept of prosthetic-driven implant dentistry.
Guidelines for implant selection are based on several parameters (Box 23.1), and involve clinical examination, radiographic examination, and ultimately surgical evaluation.
Box 23.1 Checklist of parameters to be evaluated for implant selection
Dimensions of the edentulous area
Adjacent teeth
Biomechanics
Bone volume
Bone quality (loading protocol)
Anatomical structures
Implant characteristics include the following: length, diameter, shape, roughness, number, and position. In addition, esthetics may affect the choice of implant (see Chapter 17).
Dimensions of the Edentulous Area
Ideally, the diameter of the implant platform should be identical to the cervical dimension of the replaced tooth.
Interdental Distance: Single Tooth Replacement
A 7 mm interdental distance is considered as a routine case, i.e. a standard implant can be placed without particular risk (Fig. 23.1). For the smallest spaces (5–6 mm), one should consider the use of small diameter implants to avoid excessive proximal bone loss. For larger spaces, a wide implant may be used if a sufficient thickness of bone is available. For edentulous areas exceeding 14 mm, two implants are required, to avoid horizontal cantilever.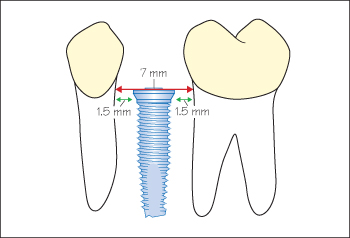 Interdental Distance: Multiple Teeth Replacement
The number and positions of implants are defined according to the prosthetic planning (see Chapter 22), and with respect to interimplant distances. A minimum of 7 mm is required between the centers of two standard implants (Fig. 23.2).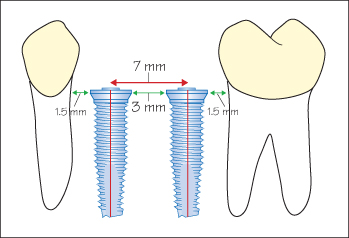 Interocclusal Distance
It is important to ensure sufficient space for the prosthetic components of the implant system. Most implant systems require a mini/>