Chapter 23
Model box storage and study models
At the beginning of every orthodontic patient's treatment, 'base line' records are taken to aid assessment, to monitor progress and for medico-legal purposes.
These include:
study models
radiographs
intra-oral and extra-oral photographs
These should all be carefully stored as they contain confidential data which must be protected.
Study models are a very important part of the patient's treatment. They need to be available to the clinician at every appointment.
In order to produce them:
Upper and lower alginate impressions are taken
A wax squash bite is taken to record the occlusion
These are cast in the laboratory by the technicians using either a plaster or stone mix. Orthodontic models are trimmed in a specific way (Figure 23.1).
During the length of a course of treatment there can be several sets of impressions taken.
These can be for:
These are kept in the patient's model box, used for reference and as a record of the patient's occlusion at that time.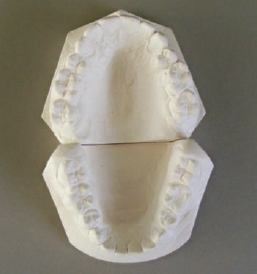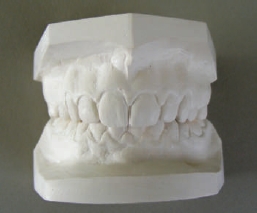 These are taken at the end of a stage of treatment, e.g. when a patient has completed the expansion stage of treatment and is going into fixed appliances.
The work model is the model on which the technician makes the appliance.
When the pre-surgical orthodontic phase of treatment is completed, impressions are taken to confirm that the teeth have been moved into the planned position.
When the patient is to have orthognathic surgery, models are mounted on articulators. The models are cut and remounted to the planned occlusion to enable the surgeon to see the movement required at the operation. Also, to aid planning and assessment, e.g. for cases of hypodontia and some complex orthodontic cases, a Kesling set-up is done to prescription in the laboratory. This is a procedure whereby individual teeth are cut off a work model and re-set to the prescribed position to simulate future orthodontic tooth movements.
The models from these impressions are used to make the acrylic wafer that is used by the maxillo-facial surgeon in theatre during an osteotomy.