The patient record includes the informed consent, the dental quote, and the medical records.
Figure 21.1 summarizes the documents that should be kept at various stages of treatment. Care must be taken with patients having complex care. Patients are considered to have complex care needs if they need ongoing care from a multidisciplinary team (see Chapter 10). These patients should have separate records from each practitioner involved in the treatment. Each practitioner should be able to provide a copy or summary of the patient's treatment plan to the referring general practitioner before beginning the course of treatment (i.e. following an examination and assessment of the patient).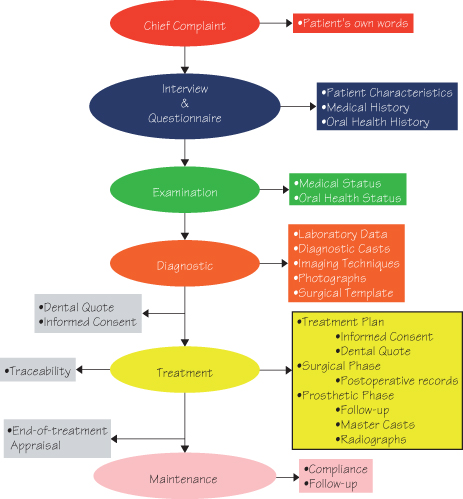 Informed Consent
The surgeon has a legal obligation to provide the patient with information on the planned procedure so that he/she has a clear appreciation and understanding of the surgery, implications, and future consequences. Therefore, all patients receiving dental implants and other oral surgeries are asked to sign a consent form. The content of the consent form mainly depends on the country's law. Basically, it is patient centered and based on the standard of care in that country. Ideally, an individual consent form should be created for each patient according to his/her specific condition. However, templates may be used for standard situations (see Appendix E).
Dental Quote
The patient must understand the cost of dental implant treatment. Dental practitioners are required to provide a written quote or cost estimate to the patient prior to commencing a course of treatment. The written quote should be signed by both the patient and the practitioner(s). The cost estimate should include the comprehensive range of care related to dental implant therapy, including dental assessments, restorative care such as fillings, crowns and bridges, extractions and other oral surgery, orthodontic treatments, and dentures.
Traceability
Dental implants are medical devices. Thus, one must be able to verify the history, location, or application of dental implants by means of documented recorded identification. The traceability of dental implants and prosthetic devices such as abutme/>