Chapter 2
Managing the Oral Health of Patients With Physical Disabilities
Aim
The aim of this chapter is to discuss the treatment of those patients who may have difficulties with access to dental care or complying with dental treatment due to physical disability.
Outcome
After reading this chapter you should be able to look at your clinical environment in light of the needs of patients with physical disabilities; and be aware of the requirements and considerations needed when providing oral healthcare outside the dental practice setting.
Introduction
Any significant impairment of function that impacts upon daily life can be viewed as a physical disability; however, it is not synonymous with ill health. The person's disability may be totally separate from health status. For example, Fig 2-1 shows an athlete with an obvious physical impairment that has no impact on health status.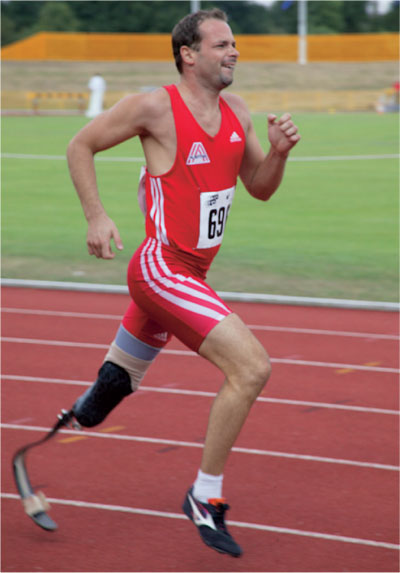 There are many forms of physical disability and this chapter will focus on physical disability relating to motor function. This is usually related to impairments of movement but can also include manual dexterity and speech. This chapter will look at the oral healthcare provision for people with disabilities of movement and dexterity only and discuss issues relating to both the patient and clinician.
Motor function impairments may be attributable to many causes, including:
congenital deformity – inherited or acquired intrauterine

acquired impairments – from birth, as in cerebral palsy, or developed during life due to disease process, such as rheumatoid arthritis and any of the chronic neurological disorders

trauma – due to accidents and incidents

iatrogenic – as in surgery.
Chronic neurological disorders, such as multiple sclerosis, Parkinson's disease, motor neurone disease and Huntington's disease, tend to be progressive. The rate at which they progress, and the degree of disability that results, can be varied and unpredictable. Their common feature is that medical treatment neither provides a cure nor controls the condition sufficiently to prevent its progression. In the final stages of disease, individuals will require nursing support and palliative care.
The aim of this chapter is to highlight the varied nature of the presentation of motor function impairment rather than discuss all the causes. By way of example, Fig 2-2 shows the hand of a patient with systemic sclerosis (scleroderma) that drastically affects the ability to hold and manipulate a toothbrush. Oral hygiene procedures are severely impaired.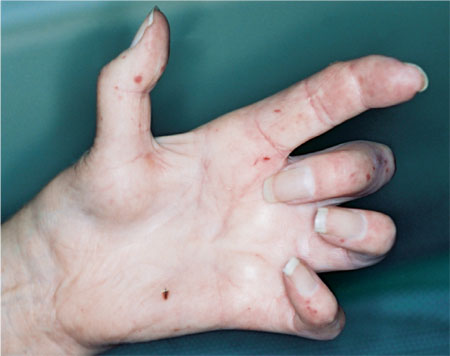 Barriers to Oral Healthcare
Access to oral healthcare facilities is a recognised barrier for people with physical disabilities. The physical and emotional barriers that must be overcome in order to attend dental services can be compounded by the cost of treatment as many people with physical disability are on low income. Additionally if carers or assistants are required by the individual this may further complicate matters.
Physical access to dental premises may not be favourable for people with physical disabilities. Stairs, narrow corridors and cramped surgeries may reduce ease of access. Traditional high-street surgery locations may create travel and parking problems as shown in Figs 2-3a and 2-3b.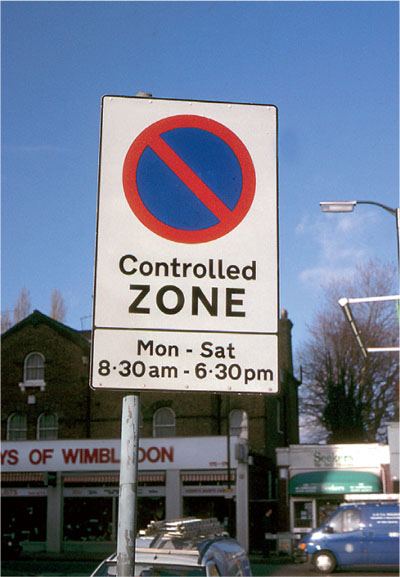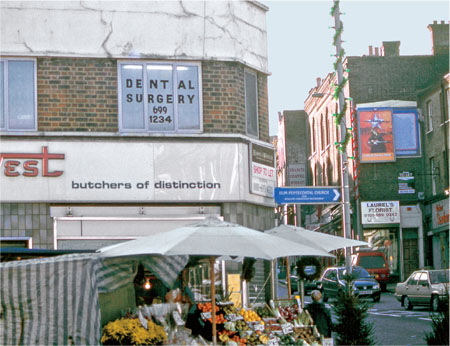 Stair access to first-floor surgeries may be impossible to negotiate for people with mobility difficulties yet the building may not be amenable to adaptation, for either engineering or financial reasons. Nevertheless, disability discrimination legislation requires every clinician to assess his or her working environment to identify the problem areas and to put practical steps in place to overcome the issues raised. If treatment cannot be provided within the surgery then provision of the service by alternative means is required. This may include domiciliary dentistry or referral to a provider service that can accommodate the patient's needs, possibly through the use of a mobile dental unit.
Additionally, the attitudes and skills of the dental team can be a barrier to care if there is little experience in treating disabled patients.
Improving Access
Ensuring good physical access to your practice is important. The legislation gives disabled people the right to bring a civil claim against your practice if they consider that you have discriminated against them. Damages that can be awarded to the disabled person who has been discriminated against are limitless.
One of the best ways to assess physical access to your practice is to ask for the opinions of people with physical disabilities and/or undertake an access audit. The local authority or one of many commercial companies will be able to help you with this. An approach you might take is set out in Table 2-1.
Table 2-1 An approach to assessing access to the dental practice
Access to the dental practice
Assess your practice
Consider what measures you already have in place and how you could improve them
Look for barriers
Ask yourself and your patients, what barriers do physically disabled patients face in this practice?
Ask outsiders/get advice
Contact the local authority or a commercial company to guide you through complying with the DDA and to provide practical and affordable solutions
Short-term plan
Draw up a 6-month plan with your top priorities and action them
Long-term plan
List longer-term aims over the next 12 months such as staff training, or affordable access improvements
Access audits identify potential problem areas and recommend solutions across a broad range of issues including:
the approach to the premises (parking, kerbs, ramps, lighting, etc.)

the entrance (door width, level threshold, position and design of door handles)

the reception and waiting room (clear signage, non-slip flooring, communication aids, appropriate seating, space for wheelchairs)

the corridors (width and space to manoeuvre, no obstructions)

the surgery (design, and space to manoeuvre)

toilet facilities (space, transfer bars, raised seat, alarm in place)

means of escape (visual alarm, exits accessible by all, signage)

disability awareness training for staff.
Simple changes may improve the access characteristics of the building with minimal outlay. Having made changes, ensure that practice information leaflets explain the facilities. This will increase the awareness among your client group, able bodied and disabled alike. If domiciliary visits are a regular event in the practice it will also explain to patients when and why there is no dentist in attendance at certain times.
Clinical Service Provision
Many patients are independent. Never assume they require assistance to access the dental chair, always ask. Also for some people, such as those with arthritis, being touched is a painful experience. Wheelchair users may be able to transfer from their wheelchair into the dental chair alone. If not, simple transfer devices are available to assist with this task, such as:
transfer or "banana" boards – smooth-curved boards that can be placed between the seats to allow people to slide from one to the other

swivel mats – that can be placed on the floor to allow a standing person to rotate to face in another direction without moving their feet. These can be placed on the ground between a wheelchair and dental chair to aid transfer.
Some people with physical disabilities will have difficulty in sitting or reclining in a dental chair and may need to be treated in the semi- or even upright position. This is also necessary for patients with conditions that impair the gag reflex in order to avoid aspiration of saliva, water spray and other dental debris which could result in aspiration pneumonia.