11
Straumann Implant System
The Straumann® Dental Implant System has been on the market since 1974. Straumann pioneered the single-stage surgical procedure with implants ideally designed for non-submerged placement. With the evolution of Straumann's product range, the portfolio now consists of implants that are suitable for a non-submerged, semi-submerged, or fully submerged technique, or for immediate placement or immediate loading procedures. Standard implants are designed for non-submerged placement, while Standard Plus implants are optimal for esthetically demanding areas. The specially designed Tapered Effect implants are ideal for placement in immediate extraction sites. All Straumann implants are made of commercially pure titanium (grade 4-ISO 5832/II).
Standard implants (i.e. Straumann implants with a 2.8mm smooth collar height) are recommended for overdenture cases.
Rough Surface on the Implant Body
This portion should be completely embedded in the bone.
Polished Collar
This portion is a transgingival part on the implant that provides ultimate gingival health. The height of the smooth neck section of Straumann Standard implants is 2.8mm. Standard Plus and Tapered Effect implants have a shorter polished collar height of 1.8mm for aesthetic zone crown and bridge cases. Because overdenture cases do not require a submerged surgical placement, Standard implants are recommended for this indication (Figure 11.1).
Originally, the rough portion of the implant had TPS (Titanium Plasma Spray) surface characteristics to increase the surface area and enhance osseointegration. Based on the success of their TPS surface, Straumann developed an improved surface called SLA® (Sandblasted, Large grit, Acid-Etched). Both the TPS and SLA® surfaces consist chemically of titanium oxide. However, the SLA® surface does not have the semi-porous structure of the TPS surface. Also, it is not a coating but rather a surface treatment (Figure 11.2).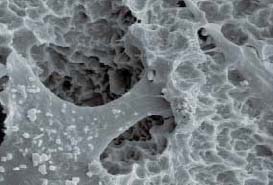 The SLA® surface is produced by a coarse sandblasting process that leads to macro roughness on the titanium and achieves outstanding bone fixation as a result. After this process, etching in acid produces micro-pits that can be seen on SEM images and promote cell activity on the surface.
The SLA® surface provides greater bone-to-implant contact, confirmed by high release moments that allow earlier functional loading. In healthy patients with good bone quality and quantity, this patented and proven surface allows the possibility of placing the attachment assembly and the overdenture only six weeks after the implant surgery.
Straumann implants are available in three different endosseous diameters in varying lengths. For implant-supported overdenture cases, the following implants are recommended:
Standard implant, Ø3.3mm, RN (Regular Neck)
SLA length: 8, 10, 12, 14, 16mm (Figure 11.3)

Standard implant, Ø4.1mm, RN (Regular Neck)
SLA length: 6, 8, 10, 12, 14, 16mm (Figure 11.4)

Standard implant, Ø4.8mm, RN (Regular Neck)

Standard implant, Ø 3.3mm, RN (Regular Neck):
– Single bar or multiple bar assemblies
Standard implant, Ø4.1mm, RN (Regular Neck):
– Single bar or multiple bar assemblies
– Retentive anchor abutment
Standard implant, Ø4.8mm, RN (Regular Neck):